Vajrapani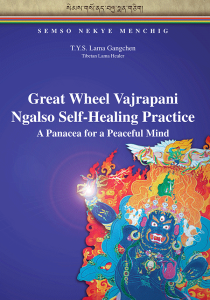 Commitment to the victory of pure crystal energies over the 84,000 defects that generate physical illnesses and —above all—mental disturbance: this is the commitment of Vajrapani, wrathful manifestation of one of the Eight Mahasiddhas, the first disciples of Buddha Shakyamuni. This book offers an insight into one of the most esoteric texts of Tibetan Buddhism, Great Wheel Vajrapani, which belongs to the class of Highest Yoga Tantra.
Subconscious energies can take on the form of demons that manifest both inside and outside of us, however these same emotions can also be involved in the healing process. Vajrapani—thanks to his Tantric power and blessed energy, is able to subjugate the demons of the subconscious by making them surface into the conscious mind. This practice represents a vital self-healing path that all of us need to undertake if we want to become truly psychologically healthy.
This book contains elements from Tantric psychology, some rituals to recognise and pacify our inner demons, the SemSo Tantric Self-Healing practice with the blessing of Buddha Vajrapani, the Cha Sum practice (an offering ritual to eliminate negative interferences) and the long life prayer of Lama Gangchen.
Author: T.Y.S. Lama Gangchen
Title: Great Wheel Vajrapani, NgalSo Self-Healing Practice, a Panacea for a Peaceful Mind
First edition: 2001
Number of pages: 159
Price: € 18,00
Also available in: Italian