Guru Puja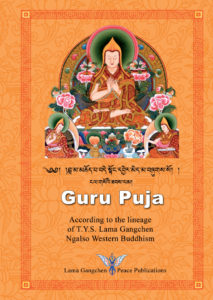 According to the lineage of T.Y.S. Lama Gangchen NgalSo Western Buddhism 
The Guru Puja (in Sanskrit; Lama Chöpa in Tibetan) is something truly extraordinary for Buddhist practitioners.
It is an overview of the teachings of the Theravada, Mahayana and Vajrayana traditions. It is a long meditation and prayer ritual written by the great and enlightened lama Panchen Lobsang Ciöky Gyaltsen in the XVII century.
The heart of the Guru Puja is the offering of the tsog for which an altar is prepared with various types of ritual substances. The tsog is offered in order to satisfy the guru, all the holy beings, all the living beings and all the mandala divinities of our body. In Sanskrit this offering is called Ghanachakra. The offering of the tsog is an antidote against loneliness as it places us in relationship with all beings, including those who live at more subtle levels; it makes us become friends with the holy beings, bringing them close to our heart. We no longer have enemies.
This volume includes the traditional Guru Puja by Panchen Lobsang Ciöky Gyaltsen integrated with the Long Life Prayer for Lama Gangchen, the Long Life Prayer for Lama Michel, the Homage to the Twenty One Taras, the Invocation to the Inner and World Peace Protector, the mantras of Maritse and Chenrezig and the Prayer of Lama Tsong Khapa. 
Title: Guru Puja
First edition: September 2006
Number of pages: 230
Suggested donation: €18,00
Also available in: Italian – Portuguese