Making Peace with Environment – Shing Kam Jon So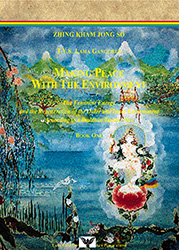 We have reached a state of global ecological crisis, a collective emotional imbalance, which is being reflected in our environment, society, health and relationships.
Our planet is not an independent entity, but is affected by the thoughts, feelings and actions of those who live on it.
Lama Gangchen offers us highly original solutions to the global ecological crisis, based on the ancient inner science of the Tantric teachings of Tibet, which go back to Buddha Shakyamuni. He suggests methods that can help us to reconnect with the energy of the elements that, through feminine energy, bring balance to our mind, body and the environment. These unique methods include meditation, visualisation and mantra recitation therapies.
As we become more harmonised, both our perceptions and our experience of daily life become more positive – benefiting ourselves and those around us.
This book has two parts: the first contains a presentation regarding the relationship between the body, mind and five elements that make-up the universe and about how to transform the polluted environment into a pure crystal mandala. Using female energy, represented by the Five Great Elemental Mothers and their subtle winds, we can take care of the outer and inner environment.
The second part contains the meditative practice of Self-Healing for the Environment. At the end of the book are appendices that describe, amongst other things, the life of Mahasiddha Laksminkara and the astrological system of Kalachakra.
Author: T.Y.S. Lama Gangchen
Title: Making Peace with the Environment – Shing Kham Jong So – The Feminine Energy and the Regeneration of the Outer and Inner Environment According to a Buddhist Tantric View
First edition: 1996
Number of pages: 240
Price: € 18,00
Also available in: Italian