Oracle I – Lung Ten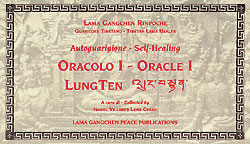 This book provides 108 messages that offer us new solutions to our problems.
It is a collection of crazy wisdom messages that we can consult in moments of necessity in order to direct in the best way, our actions and choices.
The method advised to receive an answer, is to ask the lama a question "from heart to heart" and then open the book at random.
Author: T.Y.S. Lama Gangchen
Title: Crazy Wisdom Oracle – 108 messages for a happier life
First edition: 2005
Number of pages: 130
Price: € 15,00
Available in: double version English/Italian