The Four Seals of Buddhist Philosophy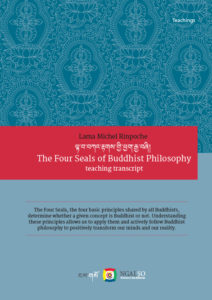 The Four Seals, the four basic principles shared by all Buddhists, determine or exclude the belonging of a certain concept to Buddhism. They are: all compound phenomena are impermanent. All that is impure is of the nature of suffering. All phenomena are empty and devoid of an inherently existent self. Beyond suffering there is peace.
Understanding these principles allows us to apply them and actively follow the Buddhist philosophy in order to positively transform our mind and our reality.
Author: Lama Michel
Title: The Four Seals of Buddhist Philosophy
First edition: June 2018
Number of pages: 60
Suggested donation: €5,00
Also available in: Italian – Dutch – German – Spanish