Peace Culture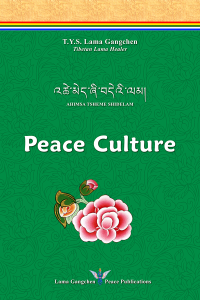 This book is an anthology of the principal teachings on peace, both inner and universal, given by Lama Gangchen over the past ten years.
These teachings are divided into different sections that also contain, other than the teachings on the particular topic, the editorials published in Peace Times (magazine of the LGPP) and the peace slogans taught by Lama Gangchen.
The book also contains the complete text of Lama Gangchen's proposal to create a Spiritual Forum at the United Nations.
Author: T.Y.S. Lama Gangchen
Title: Peace Culture
First edition: 1997
Last edition: 2007
Number of pages: 103
Price: € 12,00
Also available in: Italian and Dutch