Maitreya, the Present and Future Love Buddha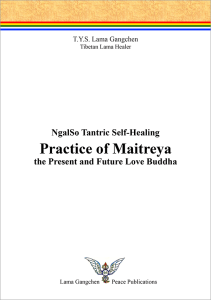 The name Maitreya in Sanskrit, or Jampa in Tibetan, means the Buddha of Love who helps us to realise our true human nature, our Buddha- nature.
Maitreya is presently the regent of Shakyamuni Buddha, waiting in the Tushita Pure-land to descend to our world and turn the wheel of dharma again when the teachings of Shakyamuni have been forgotten. At the time of Buddha Shakyamuni he also manifested as one of the Buddhas eight main bodhisattva disciples and is depicted listening to the Buddha teaching the Perfection of Wisdom Sutras on the Massed Vultures Mountain in India.
Author: T.Y.S. Lama Gangchen
Title: Maitreya, the Present and Future Love Buddha
First edition: 1986
Second edition: 2009
Number of pages: 54
Suggested donation: € 7,00
Also available in: Italian