Sitatapatra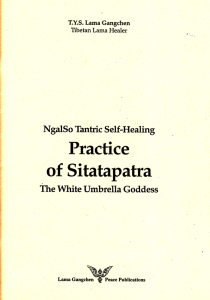 Sitatapatra is considered to be a special manifestation of Tara as well as the female equivalent of Avalokitesvara, the Buddha of Compassion.
Her White Umbrella has the power to protect against negative information, astrological influences, collective violence and the causes that create psychological problems, as well as pacify obstacles, arguments and fights.
She helps not only to win over external violence but also to heal our personal inner violence that pushes us to behave in aggressive and violent ways in every moment of our daily life.
Author: T.Y.S. Lama Gangchen
Title: NgalSo Tantric Self-Healing – Method of Sitatapatra – 2003
First edition: 2003
Number of pages: 22
Suggested donation: € 5,00
Also available in: Italian