Self-Healing NgalSo Mahayana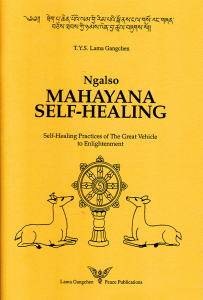 Mahayana, the great vehicle to enlightenment, is the Buddhist path characterised by the aspiration to attain illumination for the benefit of all sentient beings. This attitude is called bodhichitta, the great altruistic mind.
To develop bodhichitta, Mahayana practitioners take the Bodhisattva Vows (18 principal and 46 secondary) and practise love, compassion and the Six Paramitas (the perfection of generosity, morality, patience, enthusiastic effort, concentration and wisdom).
The practice of NgalSo Mahayana Self-Healing strengthens the healing powers of the eight Bodhisattvas; it teaches us to recognise the negative attitudes (Ngal) of body, speech and mind that distances us from the bodhichitta path and to transform them into positive attitudes or virtue (So) of the great vehicle to enlightenment. First of all we invoke Maitreya in order to develop love and altruism, then Akashagarbha for generosity, Samantabhadra for morality, Kshitigarbha for patience, Vajrapani for enthusiastic effort, Sarva Nivarana Vishkambhini for concentration, Manjushri for wisdom and lastly, Avalokiteshvara for compassion.
Author: T.Y.S. Lama Gangchen
Title: NgalSo Mahayana Self-Healing Practice of the Great Vehicle of Enlightenment
First edition: 1999
Number of pages: 64
Suggested donation: €13,00
Also available in: Italian