Manjushri and Saraswati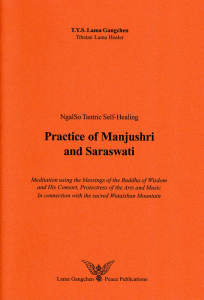 Manjushri, the Buddha of Wisdom, has a long and profound connection with the sacred Wutaishan Mountain of China, which has been documented in the sutras – here on this holy mountain Manjushri is said to have appeared often to pilgrims with the pure motivation to meet him.
Orange in colour, Manjushri is seated in the vajra posture. In his right hand he holds a sword with which he cuts fundamental ignorance, or the attachment to inherent existence of our self and all phenomena. In his left hand he holds the stem of a flower upon which rests the Prajnaparamita text, the Perfection of Wisdom Sutra.
Saraswati is his female counterpart. White in colour she represents the wisdom of the arts and in particular of music. In her hands she plays a lute whilst she dances on a lotus flower.
This practice helps to heal the body, speech and mind, and increases our understanding of the authentic nature of reality, our intelligence, memory, creativity; it pacifies astrological influences.
Author: T.Y.S. Lama Gangchen
Title: NgalSo Tantric Self-Healing, Practice of Manjushri and Saraswati – Meditation using the blessings of the Buddha of Wisdom and His Consort, Protectress of the Arts and Music – in connection with the sacred Wutaishan Mountain – 2005
First edition: 2005
Number of pages: 55
Suggested donation: €5,00
Also available in: Italian