Parnashavari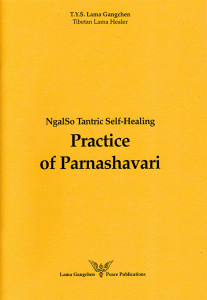 Parnashavari (Sanskrit), Lomagyuma in Tibetan, is the mountain hermitess who dispels ignorance and protects from disease (in particular those of a contagious nature).
She is also identified as the twentieth of the twenty-one Taras, who is specialised in the prevention and cure of sickness thanks to her knowledge regarding the natural healing powers of herbs.
She wears a skirt of forest leaves and in one hand she holds the stem of a medicinal plant; she is both peaceful and wrathful at the same time.
Parnashavari belongs to the Karma Action Family of Buddha Amoghasiddhi, emphasising the swift performance of the enlightened activities of the buddhas.
Author: T.Y.S. Lama Gangchen
Title: NgalSo Tantric Self-Healing – Practice of Parnashavari
First edition: 2003
Number of pages: 27
Price: € 5,00
Also available in: Italian