Reiki Chagwang NgalSo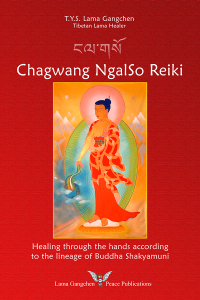 An ancient method based on healing through the laying on of hands with the blessings of the NgalSo Tantric Self-Healing lineage. It can be used to heal the profound and occult causes of sicknesses that do not manifest symptoms and to purify and pacify astrological and karmic causes.
Chagwang NgalSo Reiki confers new hope, stronger power and deeper conviction. It removes doubts that we are unable to help others. It gives us the capacity to heal hidden sicknesses that are not easily recognised.
Author: T.Y.S. Lama Gangchen
Title: Chagwang NgalSo Reiki. Healing through the hands according to the lineage of Buddha Shakyamuni
First edition: 2006
Second edition: 2007
Number of pages: 71
Suggested donation: €22,00
Also available in: Italian